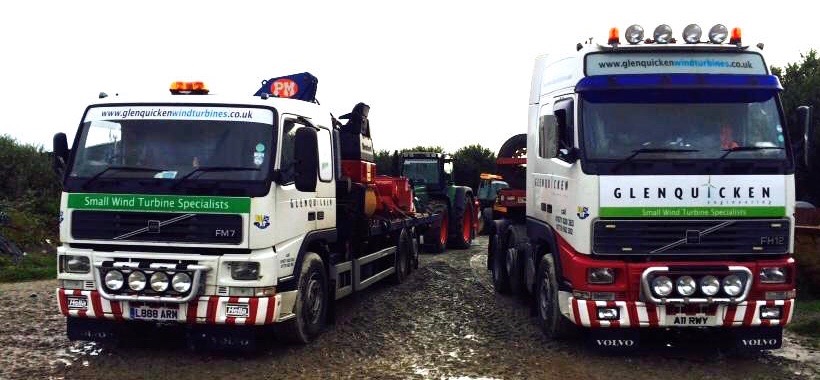 Crane-equipped lorries, trailers and plant

Glenquicken Eng. Ltd of Creetown, south west Scotland, offers specialised transport services using articulated and rigid lorries equipped with hydraulic cranes. Used primarily as part of Glenquicken's core farm-scale wind turbine business, these vehicles are capable of lifting and transporting heavy machinery, plant and equipment. We also offer general haulage using articulated units and flatbed lorries. Our vehicles are hired out at a competitive price on a time and fuel usage basis.

Our range of articulated trailers includes: Flats, stepframes, recovery, curtainsiders and bulk tipping units.

Our farm machinery and plant includes: Fendt 260 HP, JCB Fastrac 150 HP and John Deere 120 HP tractors, dump trailers, bale trailers, 6 ton dumpers, .75 ton, 3 ton and 7 ton 360° diggers, all with rubber tracks.

Our equipment includes: Hydraulic winches with power packs for lifting, pulling or recovery.

We also offer generators, trailers and industrial equipment for hire and sale. Glenquicken can also source to order specialised industrial and commercial plant for sale at competitive prices.